What Is Search Engine Optimization (SEO)?
Before we dive into the 4 key pillars for successful SEO, let's review the basics. Search engine optimization, or SEO, is the process of improving the ranking of a website on search engine result pages (SERPs). The higher the ranking, the more likely people are to find the website.
Good SEO is important in part of digital marketing and the sometimes the best marketing strategy for many businesses. It can be used to improve the visibility of a website in Google and other search engines and attract more visitors. By the end of this article, you will have a clearer understanding of what the 4 pillars of SEO are and will be able to understand the jargon when talking to your SEO expert or agency.
What are the 4 pillars of SEO?
The four key areas of SEO are technical SEO, on-page SEO, off-page SEO and content.
Technical SEO deals with the underlying code and structure of your website, making sure it is optimized for search engine crawlers.
On-page SEO deals with the content and keywords on your webpage, making sure they are relevant and optimized for search.
Off-page SEO deals with link building and other external factors that can influence your website's ranking.
Content is also important for SEO, as it helps to ensure that your website has high-quality, relevant content that search engines will index.
Technical SEO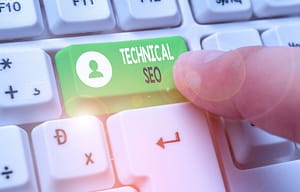 Technical SEO is the process of optimizing a website for the search engines. It involves optimizing the website structure, code, and content so that the search engine spiders can crawl and index the site easily. Technical SEO also includes improving the website speed and performance, as well as ensuring that the website is mobile-friendly.
Technical SEO includes the following core factors:
Crawlability: The crawlability of a website refers to how easily search engine crawlers can access and read the site's content. These crawlers can be thought of as spiders that follow links across the internet. If the spiders can't crawl your site, there is no chance to appear in organic search queries.
Indexation: Indexation is the process that allows search engines to include your site's pages in the search results.
Page speed: The speed of a webpage is the amount of time it takes for the page to load. This speed is determined by different factors, such as the server hosting the site, the size of the page files, and how images are compressed.
Mobile-friendliness: The mobile friendliness of a website is its ability to load and function properly on a mobile device such as a smartphone or tablet.
Site security (SSL): Secure Sockets Layer (SSL) is a technology that encrypts information sent between a website and a web browser. This helps to protect sensitive information, such as credit card numbers and login credentials, from being intercepted by third-party attackers.
Structured data: Data that is easy to read and understand for machines falls into neat categories. This includes information like names, dates, addresses, credit card numbers, stock information, geolocation, and more. This data is well organized and simple for machines to interpret.
Site architecture: The way your website's pages are structured is called website architecture. This structure is shown through how the pages are linked together internally. Your website's structure should make it easy for users to find what they're looking for, and help search bots understand the relationship between different pages.
Sitemap: A sitemap is a file that outlines the hierarchy of every page on your website. It includes links to all the pages, videos, and other files on your site and shows how they are related to each other.
URL structure: A URL is a location on the internet that is identified by a combination of a protocol, domain name, and path. A website's URL structure should be kept as simple as possible.
Finally, technical SEO also includes monitoring and improving the website's core web vitals. These are a set of metrics that measure the page load time, responsiveness, and visual stability of a website. By improving these metrics, you can make your website more user-friendly and improve your chances of ranking higher in the search results.
On-Page SEO
On-page SEO , also known as on-site SEO, refers to the practice of optimizing each individual page in order to rank higher in the search engine's index and earn more relevant traffic.
Depending on which expert you ask, On-Page SEO is actually Technical SEO and vice versa. Is it true? In my opinion, yes! In reality they all have the same goal; To help rank higher in search engines.
These are some of the
Titles Tags and Meta Descriptions: Bits of HTML code in the header of a web page, used to tell the search engines what the page is about.
Canonical Tags: Also known as "rel=canonical" is a snippet of code used to tell Google which version of very similar pages should be ranked.
Alt Text: Refers to the text description of an image, and is used for accessibility purposes
Image Optimization: Involves delivering the highest quality with the least weight in order to provide a good user experience without slowing page load speed.
Make sure you're doing all you can to optimize your web pages and give yourself the best chance of ranking high in search engines.
Off-Page SEO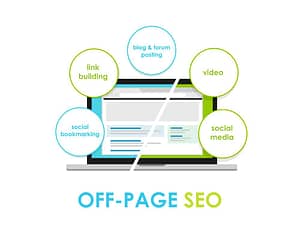 Off-page SEO (also known as "off-site SEO") is the fourth pillar and refers to actions taken outside of your own website to influence your rankings in search engine results pages (SERPs).
Off-site ranking factor optimization entails improving search engine and user perceptions of a site's popularity, relevance, trustworthiness, and authority. This is accomplished by other reputable websites linking to or promoting your site, effectively "vouching" for the quality of your content. This practice is known as back linking
Content & User Experience (UX)
Since its inception, content has been the foundation of SEO. It contains text, images, video, tables, PDFs, and other files. Search engines derive meaning from each webpage based on its content.
Lets dive in and look at the types of content
Product pages – These are essential for any e-commerce. Well executed product page can be used as content as well as a sales funnel landing page.
Blog Posts – One of the earliest and simplest methods to develop a consistent supply of quality SEO material is to start a blog. Since they are rarely transactional, they are more interesting and likely to garner links than product pages. In addition, the can help in establishing authority for your site.
Lists or Listicles – A list is essentially a type of article, but presenting it as a list (for example, "5 interesting SEO Tips to Boost Higher Education Enrollment" or "4 effective steps to improve your Facebook ads results") makes it easier to peruse. .
How To´s – This is essentially a guide that explains how to do something in depth. This can be a good strategy to create leads, but bear in mind that setting up a registration wall will most certainly limit the amount of SEO traffic you can drive to that guide.
Videos – Since more people prefer to watch than to read, videos can be an awesome method to improve your search engine rankings and attract and reach an audience. A common type of video are tutorials for your service or product.
Information graphics- Infographics, or large-format visuals containing a huge amount of data (typically in the form of graphs or charts) about a single topic, can generate a large number of page views and links.
However, because so much of the content is incorporated in the image and hence not legible as text by search engines, the rest of the page must be carefully optimized.
Glossaries – I'm willing to bet more people look up terms on Google than in dictionaries. (Do you even know where you put your dictionary?) If you work in a specialized field, a well-designed glossary can help you gain some search traffic. Consider cookery terminology, medical terms, fashion terms, architectural terms, and so on.
These are just a few examples of fundamental SEO content, but don't allow this list limit you – the options are almost limitless. It is crucial to understand that content on your site is not set in stone.
An effective SEO strategy requires content optimization if you want to keep a high position within search engine results. This optimization is part of the user experience.
The following factors are taken into considerations for rankings by Google:
Quality – Unique, well-written content that adds value to visitors is essential.
Keywords – The phrases you want to appear in search results must be included in your content. To provide more context, group related keywords together and use synonyms.
Newness – Fresh, new content is popular among search engines. Your blog is normally the most frequently updated content on your website.
Type – Depending on the topic of the page, you'll want to include a meaningful combination of text, images, video, and other elements to make the page dynamic, visually appealing, and engaging.
Relevancy – refers to how well the content on your website matches search queries. The more relevant your web page, the better it will perform in search results.
You can have excellent content on your website, but if users have difficulty finding and interacting with it, search engines will take notice.
Navigation – Your site has a logical information flow that allows users to easily find the content they seek.
Look – Your website is presented in a straightforward and visually appealing manner that communicates trust, authority, and the spirit of your brand.
Feel – People like how they interact with your site and how it interacts with them back.
Usability – The site is simple to use and functions in a consistent manner that corresponds to visitor expectations.
Getting Started with SEO
As we have seen, SEO success comes from a variety of factors. However, we consider the most important yet overlooked factors is content. Content is what tells the search engines what your website is about and what keywords you should rank for. That's why should be part of any SEO strategy.
If you're not sure where to start, contact us at Conversia Marketing. We can help you create and execute a successful SEO strategy that will get you on the path to SEO success.