As a business owner, you know that marketing is the key to growing your customer base and increasing profits. But with so many different digital marketing strategies available, where do you start? We're here to help! By using these smart digital marketing tactics for small businesses, you can grow your customer base and get stronger sales.
Start with a plan!
A marketing plan sounds like a basic rule every business owner follows, yet the truth is far different. In reality, when SMB owners think of attracting new customers, the first thing that comes to mind is to start a marketing campaign without setting smart goals to create or increase brand awareness and attract potential customers. A campaign is crucial, but it should be deployed after you have developed a marketing strategy and then a plan around it.
Imagine this; as an owner, you decide your target audience is everyone. Since you have the resources, you come up with a considerable marketing budget, and you decide to start your paid advertising campaign to promote your business or product thinking everyone will flock to your physical or online store. The days go by and your website traffic is not increasing, or maybe it is but it is not reaching acceptable conversion rates. You start scratching your head trying to figure out why you can't reach your target audience if you are using (what you think) the right marketing tools. The problem? There is no plan.
Without a plan, a business runs the risk of depleting their budget without getting the desired results. A plan must be studied, developed, deployed and tracked once into place. Only then, can start our digital marketing campaign.
Taking this into consideration, let's look at some smart digital marketing tactics you can include as part of your strategy.
Your Website as a Sales Funnel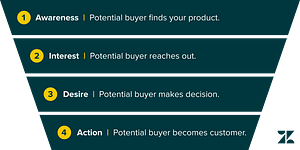 Image source: Zendesk
If you have a website and you are not using it as a sales funnel, then your website is probably not converting leads into customers. If you haven't heard of this marketing tactic, this is a good time to catch up.
The first step to make sure that your website is the right way to sell to your customers is to analyze what kind of traffic you receive. If you do not have a website, build one now!
If you already have a website, make sure you have done your keyword research it is optimized for search engines (SEO). Make sure all necessary information about your business can be found easily on the site and that it is easy for people who visit it from Google or other sites to navigate through the site smoothly.
Take Advantage of Video Marketing
It's a smart move for businesses to invest in video marketing. You can use it to connect with customers, stand out in the crowd, and sell your product or service. Video marketing is also a great way to drive traffic to your website.
To get started with video marketing:
Have a vision for what you want your videos to accomplish. What are you hoping they'll do for your business? How will they help you achieve your goals? Do some brainstorming about this before shooting any footage so that when the time comes, you know exactly what type of videos will benefit your company most—and how best to create them.
Keep things simple and straightforward when filming each shot; make sure each video conveys its message quickly and clearly without taking up too much time or space on screen (or people might not stick around).
Build Your Email List
Building your email list is one of the best ways you can grow your business and get more customers. There are many different tools that can help you build your list, from simple online opt-ins to sophisticated CRM (customer relationship management) platforms. Your goal should be to create an email marketing system that's easy for you to use, but also allows you to segment your audience so that you send them content relevant to their needs and interests.
In addition to using an automated drip campaign tool like MailChimp or Constant Contact, consider using a more advanced solution like HubSpot or Pipedrive CRM if:
You want a single platform where all sales activity takes place – so that everything happens in one place rather than having separate tools for lead generation, email marketing, social media marketing etc.
You want more advanced features such as landing pages & forms templates where people can submit information such as their name and contact details allowing companies like yours who have limited resources available during busy periods when they don't need support staff around 24/7 365 days per year!
Build Your Social Media Presence
Agreat way to build relationships with your customers is to use social media. You start conversations, learn more about them and their preferences, and share industry knowledge.
It's important to have a professional presence on social media so that you are perceived as a credible source of information. That means using correct grammar and spelling, staying away from slang words and jargon, sharing relevant content (that does not sound like an ad), avoiding overuse of emojis or exclamation points—in general making sure that what you write sounds natural rather than forced or artificial. This also makes it easier for people who want to follow your business on social media because they will be able put their trust in the quality of information which will be provided by your brand account.
Unique Content Creation
One of the best things you can do to make your business more successful is to create unique content. Content is king; it's the foundation of your online marketing strategy.
Content is the most important part of your website, because it will help you achieve higher rankings in browser search and drive more traffic to your site. When people visit your site, they want something valuable that they can use right away—and if you don't have any content on there, they won't stay long enough for anything else!
Content marketing also plays an important role in email campaigns, social media marketing and search engine optimization (SEO).
Don't Forget to Send a Thank You Email
You should send a thank you email after any interaction with your customer, including:
A purchase
An interaction with customer service
A referral that leads to an interaction with customer service (if the referred person buys)
When someone posts a review on their social media of how awesome your business is (and tags you in it)
Use A/B Testing On Everything!
The best way to test the effectiveness of your different tactics is by running A/B tests. You can do this with a variety of tools, including Optimizely and Google Analytics.
The point of A/B testing is to see if different versions of an asset (like a headline or landing page) perform better than others. If you have more than one tactic, try running an A/B test on each one and then compare the results. This can help you find what works best for your audience!
Wether you are a local business or medium sized enterprise, your business can grow and thrive if you follow these smart marketing tactics. You'll need to work hard and put in the hours, but with the right tools and the right attitude, it will be well worth it. Also, keep in mind you don't have to do it all yourself. You can always look for a marketing agency to be the right partner. An agency or professional marketer can help you maximize your marketing efforts and position your business for success.
An agency an help you:
Define the right strategy (Marketing goals, target market, SEO strategy, etc)
Create content and distribute it in your different social media platforms
Influencer marketing campagins
Management of social media accounts
Build a pipeline of qualified leads with PPC campaigns (Google, Facebook and Instagram)
Improve your ROI
Share best practices from previous experience
If you are a small business owner and you find your business in need of effective marketing reach out to us book time with our team here. For more marketing tips, follow us!